Introduction
The tap guitar, or tiptar, is a kind of electric guitar tapped with the tip of the fingers. Instead of plucking the strings, like on the normal guitar, you tap the strings between two frets, with the tips of your fingers.
Advantage: you can play two independent melodic lines, like Bach's two voices inventions. You can also play a melody with the right hand, for instance, and accompany in chords and bass lines with left hand. Or else you can play just one melody by alternating both hands.
The t-g can have one region, like the classical guitar or the 8-strings guitar. Or it can have 2 regions, with, in general, 6 strings for the melody, and 6 strings for the bass and accompaniment.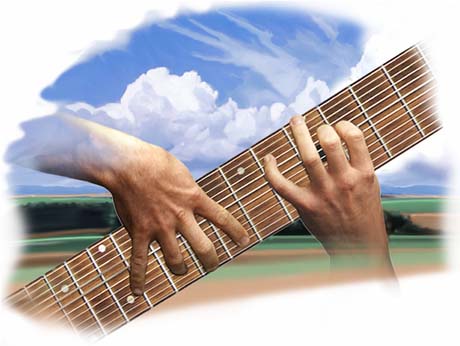 We are sorry: Our site is not fully functional. We are working to that. Meanwhile, enjoy...
Please contact us : clic@clicmusic.be