E-Tap Seminar 2023 : European Tap-guitar seminar
Main Topic 'Independence',
'In depth dance', The way our hands talk to our brain!
We shall concentrate on the Independence! After all, this is our main subject! When we see keyboard players and how far they go, why don't we do like them? . That will be our subject this year, arrange how our hands can collaborate. Kai will also talk about 'orchestration' , the way you you mix, solo, melodies, chords and bass.  Emphasis shall also be made on phasing motives in each hand, a Schell speciality. We shall keep on harmony, advanced harmony in new music, chords, simple chords, four-notes chords on the Right hand, different basses, .
When: Monday 3 to Sunday 9 July 2023
Big News: The schedule of E-Tap is now video and flexible,
Follow E-Tap on Zoom and/or Skype
You can join the full Seminar or just attend the week days or week-end which you like. You can also follow E-Tap on video, by Skype or Zoom.
Where : Suxy (Chiny) Wallonia region
Organisers:  www.clicmusic.be
The Teachers:
Kai Kurosawa (US, Japan) in presence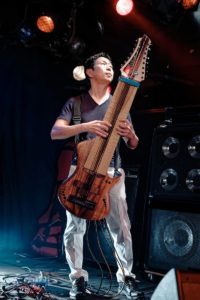 Daniel Schell (BE) in presence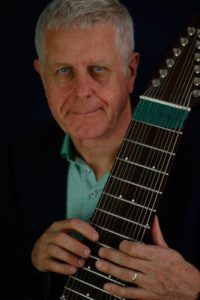 Wolfgang Daiss in presence July 3-5

Topics of this 2023 session:
Kai Kurosawa : Orchestration
The great avant-garde musician will show and explain his technique.He will first concentrate on what he calls 'Orchestration' that is the way you handles your melody, your chords and your bass between your both hands.
Already tapping was a revolution, but Kai came with something even newer: the 'one-hand-bass' as he calls it. He plucks the string with one hand only.  This combination of plucking and tapping is really something new. That's not all, Kai has also introduced the strumming of chords with his pinky, a kind of accompanying guitar effect.
For more information look here Kai's technique
Kai  Kurosawa's Website www.happysad.org
Daniel Schell: 'Independence, Motives and Harmony'
– General tapping techniques: fingering on various boards (including the guitar)  and tunings ( 4ths, 5ths)
– Independence: Daniel will invetigate in depth the process of indpendence, the way our hands work and depend on our thinking.
Harmony: Traditional, jazz and new chord changes. We shall continue the chords studies which we started last year. and specially the four-notes chords we studied with Randy Strom
Watch the scores of "Spring Comes" and Blue E-Tap.
"Minor 8"
– Rhythmics: Even and uneven metrics: Using such meters as 4/4 , 5/8 and 7/8 and alternating them.
– Creating interesting rhythms and lines on those meters and others. This year we shall concentrate on producing interesting long improvisations using the phasing of independent motives, a subject which Daniel has implemented and played since many years.
– Multi motive improvisation: one different motive in each hand.
Suxy (Chiny) Wallonia
Belgium
(Map)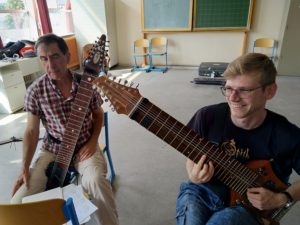 Check our schedule of the 2022 (Session 2023 comes soon)  session here
Any questions ? Please check our FAQ page